Ride behind the beautiful, restored SP&S 700 Steam Locomotive
See the Willamette River from a different perspective
Ride in an open air car or in a caboose
Help to support Portland's Railroad and Industrial Heritage
Celebrate the 100th anniversary of the completion of the SP&S North Bank Road, March 11, 1908
Celebrate the 70th anniversary of the delivery of the SP&S 700, June 21, 1938
Schedule and Pricing

Oregon Pacific Railroad

WWW.SPS700.ORG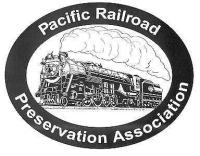 Vintage railroad equipment will be used. Board at our Oaks Park Station, located near Oaks Amusement Park and ride the scenic view along the Willamette to East Portland Junction and back, approximately 45 minutes. Proceeds benefit the PRPA, a non-profit, all volunteer railroad restoration organization.
Pacific Railroad Preservation Association - Based in Southeast Portland
Non-Profit, All Volunteer. Est. 1977
PRPA Concessions page
Oaks Amusement Park
Oregon Pacific Railroad