SP&S 700 Homecoming Excursion Photos - April 20-23, 2001

Click on thumbnail or text to see larger photo.
Day 1 - Vancouver to Pasco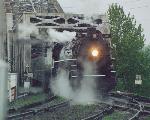 Backing onto the swing bridge after boarding. Photo by Michael Christy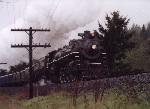 Near Washougal. Photo by William Adwell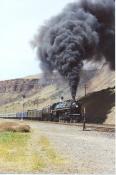 Runby at Avery. Photo by Kerrigan Gray.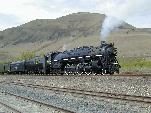 We stopped at Avery to do two run-bys and shoot the rods. Photo by Peter Schuytema.
Day 2 - Pasco to Spokane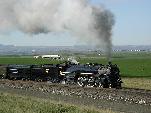 Leaving Pasco. The steam under the cab is exhaust from the tank heat, which was warming the fuel back up after a cool night. Photo by Ted Curphey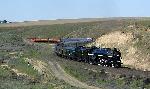 Climbing the Second Coulee above Connell, the only car not visible in this great shot was the last car, the James J. Gilmore. Photo by Ted Curphey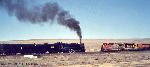 After having to stop because of valve lubrication trouble, we were met by a freight. BNSF quickly removed the middle engine, #6308, and put it on the point of our train, enabling us to continue with only a slight delay. Photo by Heather Meiklejohn.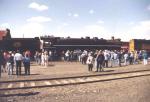 Crowd at Ritzville, WA. Photo by Jim Fitzgerald.
Day3 - Spokane to Pasco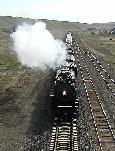 Photo by Ted Curphey
Day 4 - Pasco to Vancouver, (just stayed in Pasco)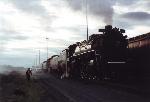 Early morning at Pasco grain track, preparing to move to the depot. Photo by Terry Thompson.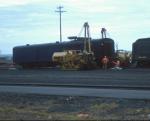 After the derailment, the power car (Montana Daylight) is being lifted. Photo by Chris Jacks.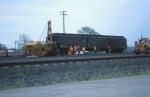 Re-railing the Kenny Prager (PRPA tool car). Photo by Chris Jacks.

For more pictures of the Homecoming Excursion, visit:


Our thanks to William Adwell, Peter Schuytema, Heather Meiklejohn, Chris Jacks, Jim Fitzgerald, Kerrigan Gray, and Michael Christy for making their photos available to this website.

Return to main photo gallery page