Montana By Steam 2002 - Part 10
Oct 21, 2002 Montana By Steam excursion, layover in Sandpoint.
This location on the MRL (Montana Rail Link) is Kootenai at MP 116.9 in the 4th Sub.
---
"LOOK, LISTEN & LIVE"
Operation Lifesaver presentations
All five of our layover days, Oct 11 and 21 in Sandpoint, and Oct 15,16,17 in Billings, included Operation Lifesaver presentations to local schoolchildren. Bob Vanderbeck, PRPA crew member and certified OL presenter, estimated that our presentations reached 410 children, ranging in age from 5 to 16, in Sandpoint and 380 children and 25 adults at Billings.
Ray Jackson, OL presenter in Idaho, assisted by PRPA's Bob Vanderbeck takes a group of schoolchildren through the points of the Operation Lifesaver safety message. Photo by Greg Kamholz.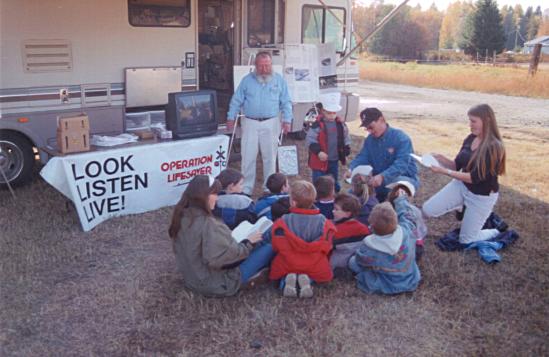 Following the OL presentation, each group was then escorted over to the locomotive and given an explanation of the locomotive and time to ask questions. After 4 full days of this, Bob's voice was giving out and he enlisted Don Matlock to be the explainer on the 21st.
Bob Vanderbeck (left) and Don Matlock explain the 700 to youngsters. Photo by Greg Kamholz.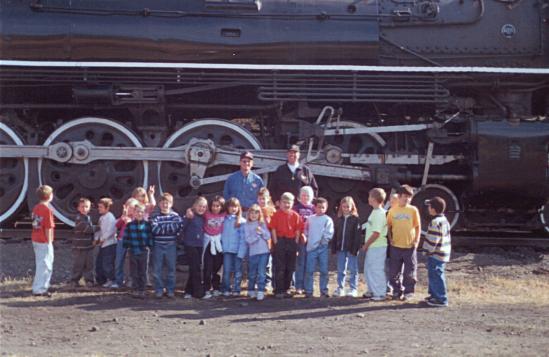 Don Matlock explains the 700. Photo by Terry Thompson.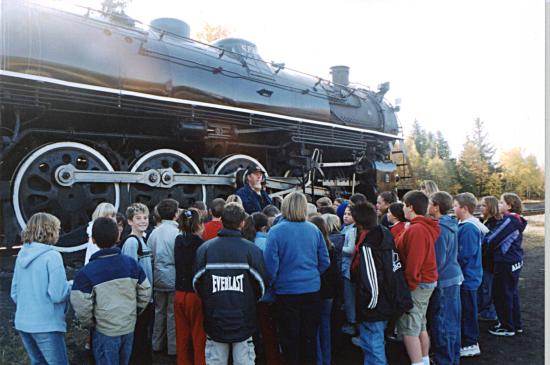 The above information on this page was excerpted from an article written by Bob Vanderbeck in the Feb 2003 issue of the PRPA newsletter "Whistle Up the Columbia". Besides Ray Jackson of Rathdrum, Idaho who did the OL presentations at Sandpoint, Bob thanked in his article the following:
Everett Cutter, Oregon OL Coordinator
Rick Flink, Montana OL Coordinator
Joe Pierce, Billings area OL Coordinator, Yellowstone County Sheriff's Office.
Roy Harper, BNSF, Wyoming Director of Grade Crossing Safety
Rod Freid, MRL, Laurel
Operation Lifesaver (National)
Return to Main Photo Gallery page