Planes and Trains Fundraiser for the 700
Sep 7, 2001 we held our fundraiser at the Evergreen Aviation Museum in McMinnville, Oregon, which was built to house the Spruce Goose plus other interesting aircraft.
Click on thumbnail or text to see larger photo.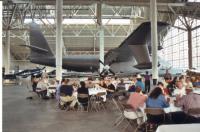 Part of the dining area. We were surrounded by a Messerscmidt Bf-109, a P-51 Mustang, and a Supermarine Spitfire. Only the P-51 is visible. The Spruce Goose, the largest airplane ever built, looms in the middle of the building. Photo by Terry Thompson.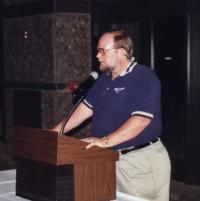 Steve Lee, manager of the UP steam program, was our after dinner speaker and shared many interesting stories from his years of experience operating and maintaining the UP 844 and 3985. Photo by Terry Thompson.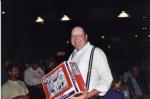 This happy man took home a Lionel crane from our raffle. Photo by Terry Thompson.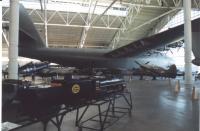 The Young Lady and the Spruce Goose. The Young Lady is a 1/8 scale model of the SP&S 700 and is not part of the museum. It was brought to the event by the owner, Garry Johnson. Photo by Matt Baccitich.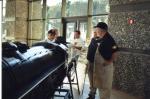 Steve Lee checks out the Young Lady. (Steve is partly obscured by Terry Kimzey) Owner Garry Johnson is on the other side. Photo by Terry Thompson.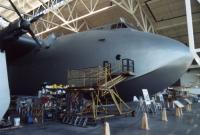 The Spruce Goose. (Not that much spruce in it, mostly birch). Photo by Matt Baccitich.

Links to related pages
Our page about the Young Lady
Evergreen Aviation Museum