On Saturday, December 10, 2005 the SP&S 700 steam locomotive, operated by the Pacific Railroad Preservation Association, derailed while operating a "Holiday Express" excursion for the Oregon Rail Heritage Foundation (ORHF). The 700 was scheduled to go through Portland's Union Station the following Sunday morning with Santa Claus, on its way to Vancouver, WA for a BNSF Santa Train. Not to disappoint the children at Union Station's Open House, Santa made an appearance there anyway. The following is a story of what happened in Santa's own words: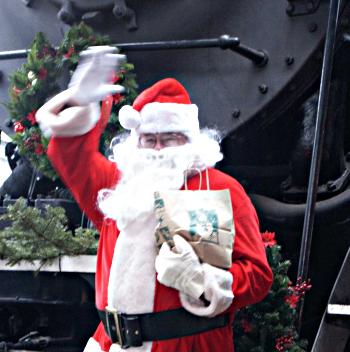 "They threw Santa Claus off the train? !"
Arnie Holden, PRPA member, occasionally dresses up in his red Santa Claus suit and fake white beard (but usually just in December.) With his bag of treats he greets visitors to the 700 (and innocent bystanders) with candy canes and holiday greetings.
The 700 didn't make her scheduled appearance at Union Station that Sunday because of Saturday's derailing. But Arnie in his Santa suit got to Union Station anyway, and dispensed Christmas cheer and candy around the Waiting Room. Scott Hurd, Amtrak's manager, asked him to board the Coast Starlight during its station stop and greet the passengers on the train.
As he got to the last car, he found he couldn't get to the exit for all the travelers getting on, so he backtracked to the previous car. Door locked. And so to the next previous car. Then through the car windows he saw Union Station going by. Next stop--Salem. Oops.
Rolling across the Steel Bridge and down the east bank, the Amtrak crew decided to let Santa off at 11th Street; Scott would drive down and give him a ride back to Union Station.
Stopping briefly at the 11th Street grade crossing, Arnie (Santa) stepped lightly from the Coast Starlight and waved to its travelers as they disappeared to the south. Then he waved to the people in the cars and trucks going past on 11th and 12th.
Now who should appear on the sidewalk before him but three teen-aged ladies, pierced and tattooed, with fitting hair colors and outfits. Ever jovial, Santa observed, "Wow, you people sure are dressed funny." Scanning him from his white acrylic wig and beard to the tips of his fake black boots, they pondered aloud, "WE'RE dressed funny?"
Candy canes and cellphone photos ensued. They asked, "So what are you doing here?"
"Well I got on that train at Union Station, and. . . " They interrupted: "and you got thrown off? They threw Santa Claus off the train?!"
Merry Christmas, all!